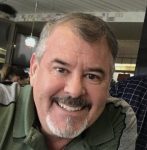 Dear Brother Knights and Families
2021 is off and running and I hope this letter finds everyone staying safe and healthy! February brings many new opportunities to volunteer for all members of the Knights of Columbus, Council 833. We start with taking down the church nativity scene on Saturday the 13th at 9 a.m. Many hands will make this task move quickly so please just show up to help!!
I am happy to announce that the weekly K of C lenten Fish Fry will CONTINUE with Covid safe modifications. We will meet safety guidelines by having a drive thru only. As always, this major fundraiser needs many volunteers to make it a success. This year the proceeds are tagged for the ST. Teresa's church rectory siding project and our parish priests are counting on us, so please make it a priority to check where your help can make the greatest impact. Our first night will be Friday the 19th and we hope to continue each Friday until the week before Easter.
St. Valentine has a special role in the month of February and I hope all of you will remember to show your love to a favorite Valentine. Consider going one step further by reaching out to an elderly neighbor or friend with a Valentine card and a special treat. The Knights of Columbus, 'One Rose-One Life' event will take place after all masses on Valentine's week-end and help is needed at each exit door of the church. This is a minimal time commitment with the reward of helping to save the life of our most vulnerable, the unborn.
Our monthly meetings have gone extremely well utilizing Zoom and they are a great way to stay connected and involved! If you need help connecting to the program (like I did!) please let me know and we'll make it happen! It's easier than you think!
Make 2021 the year you sing the praises of our brotherhood to a young catholic friend and encourage new membership. This is an amazing organization and is an opportunity to add many spiritual blessings to a young man's life.
Tony Schafers has sent out information via email on the process to become a 4th degree Knight. Please take advantage of this wonderful opportunity!
Know that I appreciate all the time and effort our volunteer's put forth and I remember each of you in my daily prayers.
God Bless and Vivat Jesus!
James McCarville
Grand Knight