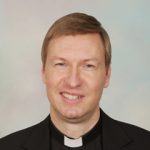 Abundant blessing in the New year to you all! It is hard to believe that it is 2022. As we begin a new year, it is natural to hope for new beginnings and to review things that could be improved in our lives and in out world. Let us pray for those affected by COVID-19 and pray for a healthy and safe 2022.
Since it was in January of 1973 that the Supreme Court decision of Roe vs. Wade, that legalized abortion throughout our country. This month has become a time in which we focus on upholding the sanctity of all human life. Amidst so many attacks against the Culture of Life, this is an incredible, hard fact of the Knights directly impacting the existence of future generations in our State. Thank you all for your work with the annual "One Rose, One Life" campaign that has made this substantial progress possible! Join us in the Nebraska March for Life this month to continue our public witness for the most defenseless in our society.
As we venture into this new Year, let us remember the wisdom of St. Agustine, "Trust the past to the mercy of God, the present to His love, and the future to His providence." In this lifetime, there will most certainly be struggles an obstacles, but you can always have the assurance and confidence in knowing that you are a beloved child of God, and He cares for you tenderly. My prayer for you is that this New Year brings you an overflowing abundance of hope and a profound understanding of the Father's love for you.
May God bless you and your families abundantly in the New Year.
Your Brother Knight,
Fr. Hottovy