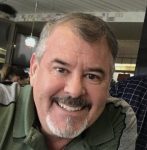 "ALL HANDS ON DECK"
Volunteers Needed
Dear Brother Knights and Families,
I hope this letter finds everyone in good health. I want to thank our Awesome Fish Fry Crews for their continued service to make our K of C #833 Fish Fry's a success.
We still need many more Volunteers to assist this week and the weeks to come. This is a great opportunity to rub elbows with old Knights and new Knights. If you need a ride, please call and we'll come pick you up. Bring your wife and children… brother or friend. Our Fish Fry's are always family friendly. Please be sure to invite everyone to come enjoy the best fish fry in Lincoln and support our mission to raise monies to replace the siding on our St. T's Parish garage.
Our monthly meetings are always Covid-Safe. If you don't feel comfortable with in person meetings, join us on Zoom. If you need help connecting to Zoom on the Internet, give me a call and we'll get someone to assist you promptly. I'm proud to be your Grand Knight and I want to help grow our council. We need to recruit new Knights of all ages. Please try to recommend one person that we can approach to join our wonderful Catholic Organization. Thanks again to every person that has helped in our successful Fish Fries.
Have a safe St. Patrick's Day! Continue to prepare for Easter in a prayerful manner. Reach out to help someone in need during Lent. Bring them out for a Fish Dinner!!
God Bless and Vivat Jesus!
James P. McCarville
Grand Knight #833