Dear Brother Knights and Families: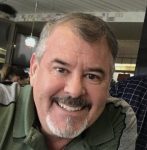 As I continue to heal from my falls and surgery, I want to thank my brother Knights who stepped up to help with our fall/winter activities. It is truly appreciated!!! Although I am still just running at half speed, I'm anxious to jump back into the fast lane asap!!
During this advent season, let us all take the time to reflect on our many, many blessings. Most of us don't have to look very far…. family, friends, jobs, health and our Brother Knights. As we prepare to celebrate the birth of our Savior, let us give thanks to Him for our lives and the many wondrous gifts that surround us each and every day.
This past Saturday, December 11th, was our annual Knights of Columbus Christmas party. I had a great time visiting with many of you. As always, the dinner and desserts were amazing and the white elephant exchange was very entertaining!!
Warmest wishes for a Joyful Christmas and a Grace Filled New Year and as always,
God Bless each of you and Vivat Jesus!!
James McCarville
Grand Knight