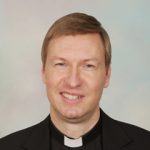 Dear Brother Knights,
This past August 13th we had the incredible opportunity to attend the first Mass to be celebrated on our beloved founder's new feast day. All three daily Masses for our parish (including our Mass at the Pink Sisters) used these new Mass settings.
As a priest saying these opening and closing prayers for the very first time, I was struck with great gratitude and profound joy. First, to be able to celebrate this Mass in his honor, but secondly, it made me even more grateful and humbled to be one of his knights. His impact in our state, our country and in the world cannot be overstated. And this impact has given real support to those in most need: the impoverished, the unborn, those with disabilities, those needing help following natural disasters and for so many others.
Supreme Chaplain Archbishop Lori reminds us in his most recent article in Columbia magazine that it is important for all of us to continue to pray for Blessed McGivney's canonization. He also reminded us to be praying the Litany of Blessed McGivney that was issued on the occasion of his beatification. (See on the next page.)
May our celebration and emulation of our founder continue to deepen.
Peace in the Lord,
Fr. Hottovy