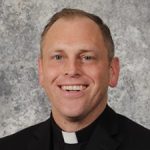 Dear Brother Knights,
The sacrament of confession is an untapped blessing to us. The Lord gave us confession as the ordinary means to have our sins forgiven, which continues his healing ministry.
Part of understanding the blessing of confession is a recognition of the reality of the priesthood. Priests are to continue the sanctifying and healing work of Jesus. Jesus healed during his time in and through his very person. Going to the priest acknowledging one sins allows for that interpersonal healing to take place, and the Lord forgives us of our sins.
When we go to confession we beg for God's mercy. When we go to confession we know that we are undeserving of God's mercy. And so over time as we come to fully except the mercy of God we become more merciful. Even when others sin against us or maybe even persecute us, we come to know in this sacrament that we too are sinners.
One of the enduring effects of making a frequent confession is that we come to know our weaknesses. We have to quite literally speak our weaknesses and failings to the priest. However, the sacrament of confession is not about beating ourselves up over sins, but owning them, showing contrition for them, and letting the Lord into our weaknesses.
During the remainder of the season of Lent, let us meditate on the great and profound mercy of God. We receive this mercy of God at a great cost, as God's mercy is fruit of Jesus' suffering, death, and resurrection. In this season of Lent, let's make it a point make a good, holy confession and receive the mercy of God.
Sincerely in Christ,
Father Kipper