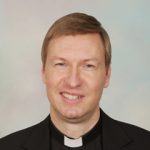 Dear Brother Knights Families,
I hope you all are having a great Lent! I would like to reiterate from a past email that our Grand Knight, James McCarville sent out on my behalf a few weeks ago. It was reiterating the message Tony Shafers said regarding our first fry. I want to thank everyone involved with the fish fries for your time, effort, and energy in making them such a success. 
The most important aspect that you all helped make a reality was creating a space for authentic community to be fostered once more.  We need these opportunities and events more than ever and as Tony mentioned people stayed and visited with one another.  Even though we're more back to normal regarding masks, etc. and we've been out and about in our parish, our workplace and our city, there still is a residual sense of isolation and unnecessary fear that community events like this that can help dissipate the negative impacts of these past couple of years.
Please invite friends and neighbors, Catholic and non-Catholic, to our fish fries.  You are doing an act of charity and we each need to do our part to reconnect with everyone.  The more each one of us does this, the more we heal and move in the right direction.  If anything, why don't we all work toward an even greater and deeper community than we had before and come out of this stronger!
Blessings on you Lent,
Fr. Hottovy