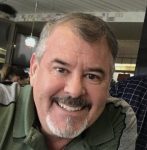 Dear Brother Knights and Families:
I would like to encourage all Knights to attend our February council meeting this upcoming week. It will be packed with information on upcoming events.
Every year, we celebrate a Mass to honor the lives of our deceased Knights. This is an important event to remember all the Brother Knights who have gone before us and a comfort to know that when our time on earth is done, we will be honored in this special way by our own council members. This mass will be held at our Knights Hall on Wednesday, February 16th and will begin at 7 pm. Please join us for this important Knights of Columbus tradition.
Our monthly meeting will follow the mass.
Our Lenten season is almost upon us, so it's time for our first major fundraiser of the year. The K of C Council #833 FISH FRY!!! We have been busy planning and getting things set up to continue our tradition of putting on the BEST fish fry in town! We are known for having the tastiest fish and the very best service in all of Lincoln. Even with the pandemic, last year was hugely successful and our goal for this year is to blow 2021 out of the water!!! To do this, we need a team of volunteers to staff the many areas of our assembly line.
Please consider helping for one evening or all of them. Any time given is greatly appreciated. Our 'Sign Up Genie' is set up to accept volunteers so check it out or give me a call and I'll get you signed up. Let's make this an epic year!
Church attendance has suffered in the past few years due to the Covid 19 pandemic. Please consider returning to 'in person' mass if at all possible. Nothing compares to the serenity and peace obtained from hearing mass from a pew. Our founder, Father Michael McGivney, showed his strengths during times very similar to what our country is experiencing now and we can do the same.
I'd like to give a HUGE shout out to Brad Behne who is our February, Knight of the Month!! Brad spends countless hours putting together our monthly newsletter and has recently volunteered to take over leadership of our Knights of Columbus Free Throw Contest.
God bless you all, and I hope to see you in person this Wednesday.
Vivat Jesus!!
James P. McCarville Grand Knight