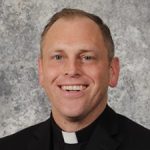 Dear Fellow Knights,
First, let me say what a blessing it is to be the new pastor of St. Teresa Parish and the chaplain for the Knights of Columbus Fitzgerald Council. I have had the pleasure of meeting many of you during the last few years as I was in residence at St. Teresa. What a blessing it is to serve and work with such wonderful men striving to grow closer to Jesus and serve the community in selfless ways.
Just a short introduction of myself. I am the oldest of four children. I grew up in Cathedral of the Risen Christ parish in Lincoln. I graduated from Pius X High School in 1998. I went to UNL for a year, entered the seminary and was ordained a priest in 2006. I have been assigned to several parishes in Lincoln and was pastor at St. James parish in Cortland for 3 years; I also taught at Pius X High School in Lincoln for 9 years. I have been working at the Lincoln Diocesan newspaper, the Southern Nebraska Register for 13 years. For the past five years, I served as Director of Communications and Moderator of the Curia for the Diocese of Lincoln.
I have a family connection to Fitzgerald Council. My late grandfather Bill Kipper was a member of Fitzgerald Council, as a member of St. Patrick Parish in Lincoln. He would later go on to be a founding member of the St. Patrick council when it became large enough for its own council. Moreover, I also received financial and spiritual support during my years in the seminary for which I am grateful.
I look forward to praying, serving, and enjoying fraternity with all of you in the future, as we all seek to draw nearer to the savior.
Sincerely in Christ,
Father Kipper