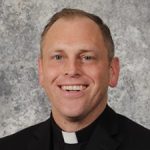 Brother Knights,
As I mentioned in a recent homily at Sunday Mass, I had the opportunity to travel in September to the Normandy region of France with my father and a priest friend of mine. I had always been intrigued by the invasion upon the beaches of Normandy during World War II, which is known as D-Day. I've admired the courage of the troops going into this battle. It felt something like a pilgrimage to see these beaches and battlefields: places where a moral battle against tyranny was fought.
The Normandy beaches are only a little over an hour from the town of Lisieux, the home of our patron, St. Teresa. And so, we also made a visit to see St. Teresa.
Saint Teresa is, of course, known for her "little way." The little way is essentially doing little things with great love. In Lisieux, you can visit the Carmelite monastery where Saint Teresa lived and is laid to rest, her childhood home, and a very large basilica dedicated to St. Teresa.
The contrast between this giant basilica and the little way of St. Teresa gave my pause. I wasn't bothered by the fact of this, but it was a moment of reflection. In the eyes of the world St. Teresa didn't do much in her life, but the effects of her prayers are very much apparent.
She wanted to be a missionary. She wanted to go to the far corners of the world to preach the gospel. She was obviously never able to do this in this life, but she continues to do it through her prayers. She is now the patron of the missions. One of her great sayings is that she wants to "spend her heaven doing good on earth."
This giant basilica dedicated to St. Teresa is thus a fitting expression of the power of one saint. In fact, as you walk around this basilica there's little plaques from different countries throughout the world where St. Teresa has made some kind of impact, evidence of her greatness of soul. Let us remember, too, that like St. Teresa, our little, good deeds can have great, long-lasting effects.
Father Kipper